Restaurant Style Balloon Menu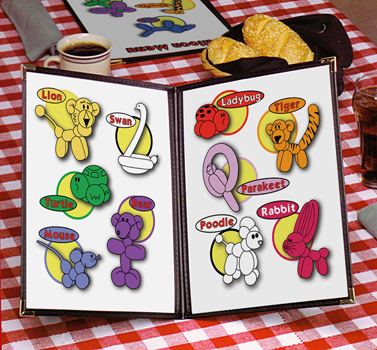 The "Balloon Menu" is a fantastic restaurant style leather menu featuring colorful illustrations of 18 popular balloon designs. It's a perfect way for your customers to decide which balloon they'd like while they wait their turn in line, and a great "gimmick" for twisters who work restaurants. Instructions for all 18 menu designs are included in both the book and the CD-ROM versions of "The Ultimate Balloon Twisters Guide Vol 1.", both of which are also available in the store.
One of the most popular features of Eli's second book "The Ultimate Balloon Twister's Guide Vol 2" is the chapter on obtaining restaurant work as a balloon twister, and in it, Eli describes the profitable benefits of using a menu such as this.
Looking for a custom menu with your preferred designs as well as your logo and contact info? Contact us for details and pricing.
Price: $7.00 (plus shipping)
8.5 x 11, 4 pages, leather
to continue shopping or view shopping cart